MAX eStatements are convenient, safe, secure and FREE.
MAX eStatements are electronic versions of your paper statements. eStatements are accessible to you only by a username and password, which helps safeguard your account information. One fewer paper statement in your mailbox means a lower risk of identity theft. MAX eStatements are presented in PDF format, so you can print hard copies of your banking statements. The MAX eStatement system stores months of statement history, making it easy for you to retrieve past account information.
Do you have questions? We have answers!
What if I forgot my user name and/or password, and I no longer have access to (or forgot) the email address I entered when I signed-up?
Call the myMAX Service Center at 334-260-2600 or 800-776-6776.
How do I view my eStatements?
Inside MAX Online & Mobile Banking, select the eStatements link located under the Transactions section of the left navigation menu.
If you do not have access to MAX Online & Mobile Banking, you may access your eStatements in an alternative way. Visit myMAX.com and select the Login Links drop down menu, located near the top of the page under the username and password fields, then select eStatement Login. Sign in using your eStatements login information.
How do I sign up for eStatements?
When logged into your account inside MAX Online and/or Mobile Banking, select the eStatements link located under the Transactions section of the left navigation menu. Simply follow the directions.
Will I continue to receive paper statements after I sign-up for eStatements?
No. Once you sign up for eStatements, you will no longer receive paper statements. You may discontinue eStatements at any time. Then you will begin to receive paper statements the following month.
How does account linking work for eStatements?
The eStatement sign-up pages will prompt you with the option to link additional accounts. Linking is only available for accounts with the same primary social security number. If the primary chooses to link the accounts, then both will receive eStatements.
How many months of eStatements are kept in MAX's eStatement system?
Once you have been registered for eStatements for 24 months, you will have accumulated 24 monthly eStatements in our system. You may view them at any time. We recommend that you save them to your computer, a flash drive/disk/cd, or print them out and keep them so that you will have a history of statements from as far back as you would like.
What if I need to enter a new email address?
While logged in to MAX Online/Mobile Banking, select the eStatements link located under the Transaction section of the left navigation menu. Scroll to the bottom of the eStatements page and select the Change Registration Information link at the bottom of the page. Then, select the Click Here button next to the "To Change Your Email Address" option. Enter your email address in the necessary fields. To confirm this change, click "Submit"
I'm a new member. How soon can I sign up for eStatements?
You can sign up for eStatements the next business day after opening your account(s) with MAX.
Will my paper statements be stored as eStatements?
No. We began the eStatements program for members as of the first of December, 2004. Therefore, we will not have an electronic (eStatement) version of any statement prior to that date. If you would like a copy of an older statement, you will need to contact us to have one mailed to you.
If I discontinue online enrollment in eStatements, will I still be able to view my eStatement history online?
Yes. If you discontinue your eStatements so that you begin receiving your statements by regular mail, the system stores your user name and password, so you may still log on to view your statement history for up to 12 months.
Why are eStatements sent in PDF format?
Adobe Acrobat Reader PDF format ensures that each member will be able to view their statement in a consistent manner. Due to the many different possible monitor settings, eStatement data without PDF could wrap differently for each user, which is guaranteed to result in confusion when viewing the data. In order to ensure that the data lines up properly in columns under the appropriate headings, we use PDF as the delivery vehicle. HTML format would not provide the same level of consistency.
Why do we require 8 characters for user names and passwords for eStatements?
Eight-digit user names and passwords ensure a higher level of security of financial data. MAX continually strives to protect our members' financial information in every way possible.
What if I sign up and don't receive an eStatement?

You must input a valid email address or you will not receive your eStatement. Also, some firewalls, pop-up blockers and other security software applications may block the receipt of your eStatement that is sent to your email address. If you do not receive it, please log in to MAX Online/Mobile Banking and navigate to the eStatements link. Click the eStatements link and check your user registration information to make sure that the address you input was correct. At that time, you may view your eStatement just by clicking the link for that month. If your email address is correct in our system, and you still have not received your eStatement, please call the myMAX Service Center at 334-260-2600 or 800-776-6776 for assistance.
If I have two membership accounts and sign up both for eStatements, can I get free Bill Pay on both membership accounts?
Yes. Just sign each up for eStatements and Bill Pay. It will be free for both.
If I sign-up for eStatements in the middle or end of the month, will I receive an eStatement for the month when I sign up?
Yes, unless the day you sign-up is on the 30th or 31st and those days fall late on a Friday afternoon or on a weekend. We will process eStatements on the last weekday of the month so you receive them on time.
What days are included in the eStatement cycle?
eStatements will show monthly account activity through the last week day of each month. Example: If April 30th falls on Saturday, then your April eStatement will show account activity for April 1st through April 29th. Your May statement will then show activity for April 30th through May 31st.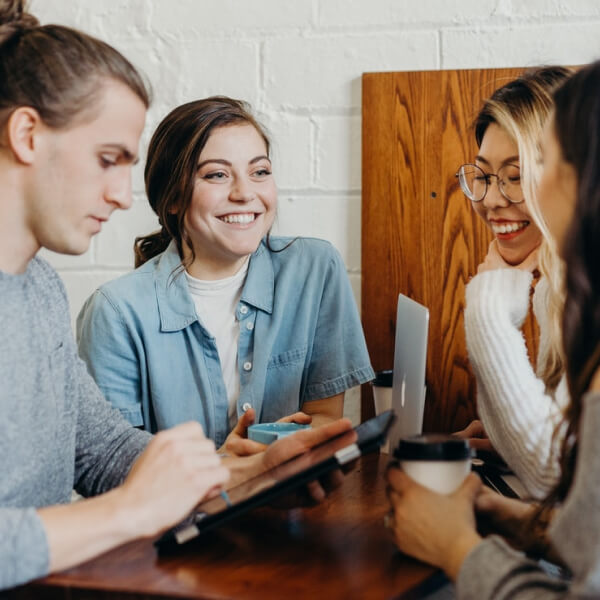 Join MAX and reap the benefits.
Are you ready to partner with the most supportive credit union out there? Join now and enjoy the many benefits of credit union membership.